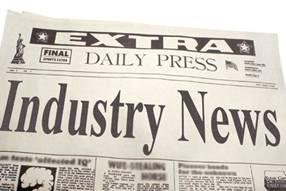 Payroll Service Industry News
(July 9, 2015 - July 23, 2015)
Square launches real-time sales tracking, payroll suites | Retail Dive
Retail Dive
The company also said that it's piloting a payroll product that allows businesses to track payroll and taxes and clock workers out from the point-of-sales ...
ADP speaks out on Zenefits dispute
Fortune
So far, the public commentary on the dispute between ADP and hotshot startup Zenefits has been pretty one-sided. Now, the giant company is
ADP, the huge company suing startup Zenefits, insists Zenefits CEO Parker Conrad 'lied'
Businessinsider India
At issue is whether Zenefits needed an agreement with ADP to act as a payroll administrator. Zenefits says it was following the same rules as every ...
Shares of Paychex, Inc. (NASDAQ:PAYX) Sees Large Outflow of Money
Money Flow Index
Paychex, Inc. (NASDAQ:PAYX) jumped 0.05 points or 0.11% on strong buying and was last priced at $47.32 per share. The shares saw huge fund ...
Paychex Explains How New Overtime Rule May Affect Employers
MarketWatch
"Paychex will continue to monitor this issue on behalf of our clients, and we'll be there to support them with the solutions needed to manage these new
Zyscovich Architects Turns to ADP to Streamline HR Processes, and to Help Build a Better ...
IT Business Net
ROSELAND, NJ -- (Marketwired) -- 07/20/15 -- ADP®, a leading global provider of Human Capital Management (HCM) solutions, announced today
Large Inflow of Money Witnessed in Automatic Data Processing, Inc.
OTC Outlook
Automatic Data Processing, Inc. (NASDAQ:ADP) traded negative at $81.45. On an intraday basis, the price dropped -0.72 points or -0.88%.
Paycom Software Upgraded to Buy by Zacks (PAYC) - Dakota Financial News
Dakota Financial News
Paycom Software Inc logo Zacks upgraded shares of Paycom Software (NYSE:PAYC) from a hold rating to a buy rating in a report issued on Tuesday
ADP's New Partnership Takes Garnishment Off Clients' Plates
Workforce Management
A new deal between ADP and CT Corp. is designed to make processing wage garnishment orders faster and more efficient for ADP clients
Paycom Software Given Consensus Rating of "Buy" by Brokerages (NYSE:PAYC)
Dakota Financial News
Paycom Software logo Paycom Software (NYSE:PAYC) has earned a consensus rating of "Buy" from the ten analysts that are covering the stock
Company Shares of Paycom Software, Inc. Rally 1.77%
American Trade Journal
Shares of Paycom Software, Inc. (NYSE:PAYC) appreciated by 1.77% during the past week but lost 7% on a 4-week basis. The shares are however
Paychex CEO Sells $2,042,117.20 in Stock (PAYX) - The Legacy
The Legacy
Paychex logo Paychex (NASDAQ:PAYX) CEO Martin Mucci sold 42,740 shares of the company's stock in a transaction dated Saturday, July 11th.
Paycom Helps Firms Deal With ObamaCare's 11000 Pages Of Rules PAYC
Investor's Business Daily
Paycom Software's (NYSE:PAYC) Enhanced ACA application, which it unveiled in June, helps firms comply with the intricacies of the Affordable Care ...
Lawyer: Payroll Boss Who Stole Nearly $407K Was 'Shopaholic'
CBS Local
PITTSBURGH (AP) – A defense attorney says a woman who pleaded guilty to stealing nearly $407,000 from a Pittsburgh company while working as ...
Paychex, Inc. (NASDAQ:PAYX)'s CEO & President Martin Mucci Unloaded 42740 Shares of the ...
OctaFinance.com
Recently, insider trading sale was made. Martin Mucci, the CEO & President and an insider of Paychex, Inc. (NASDAQ:PAYX) 48.17 -0.22 -0.45% sold
In midst of big legal battle with ADP, Zenefits snags new top attorney
San Francisco Business Times (blog)
It also moved former top lawyer Joshua Stein into a new role of vice president of litigation, regulatory affairs and public policy
Paycom Software, Inc. Announces Second Quarter Fiscal 2015 Earnings Release Date and ...
MarketWatch
Alternatively, the conference call will be webcast at www.paycom.com on the "Investor Relations" Web page. For those unable to participate, a replay
Business owners scramble to avoid ACA penalties
Lehigh Valley Business
The demand has prompted payroll companies to augment their services and technology, and third-party companies are rushing
Zenefits GC Fixes for Fight With ADP
The Recorder
SAN FRANCISCO — This week, HR software upstart Zenefits fired its first shot in a business-feud-turned-court-battle against payroll giant ADP
ADP Lawsuit Is 'Incredibly Ironic': Zenefits COO Sacks
Bloomberg
Zenefits COO David Sacks discusses Sprint and the ADP lawsuit with Bloomberg's Emily Chang on "Bloomberg West." (Source
Ex-Boca payroll director gets 20 years for stealing $20M
Palm Beach Post
When Promise sent to Payserv millions for payroll taxes, he sent part of the cash to another company he created, EZ-Jet GT. It began offering charter
Xero Expands Its Payroll Solutions, Adds New Inventory Features
CPAPracticeAdvisor.com
Cloud accounting maker Xero is expanding its payroll support for ... software market, and Xero Payroll was named the fastest growing company in the ...
Pasco businesswoman sent to prison for $3.3 million tax violation
Mid Columbia Tri City Herald
A Burbank woman who bought personal vehicles using her Pasco company's payroll taxes and spread the wealth among family members is going to
Zenefits Asks a Court to Dismiss ADP's Lawsuit
Wall Street Journal (blog)
ADP last month sued Zenefits and its chief executive, Parker Conrad, over a dispute that flared up when ADP blocked some small businesses from ...