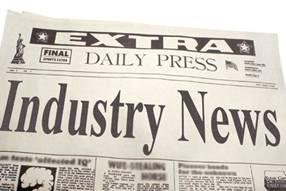 Payroll Industry News
October 1, 2015 - October 15, 2015
Signpost, FareHarbor, ZenPayroll Talk Growth at Denver Startup Week Xconomy Since launching the payroll and benefits company ZenPayroll—which has recently made the transition to the name Gusto—Kim has secured about ...
ADP to dedicate $41M building El Paso Inc. When ADP, a Fortune 500 company with $10 billion in revenue, expanded into the El Paso market in 2006, executives thought the company might
The Payroll Department expands to Zionsville Current in Zionsville The Payroll Department opened a remote sales office at 88 N. First Street on Sept. 29. ... "We're a full service payroll company," Ray said. "We're going
Ambitious embezzlement: Detroit Lakes woman allegedly took more than $140K from employer Grand Forks Herald The misuse of company funds allegedly started soon after she took the ... As office manager, Disse's duties included bookkeeping, payroll, accounts.
Paycom Software major shareholder Sells $25353000.00 in Stock (PAYC) Dakota Financial News Paycom Software logo Paycom Software (NYSE:PAYC) major shareholder Patrick J. Welsh sold 675,000 shares of the firm's stock in a transaction
Insider Selling: Paycom Software insider Sells $4507200.00 in Stock (PAYC) Mideast Time Paycom Software logo Paycom Software (NYSE:PAYC) insider Jeffrey D. York sold 120,000 shares of the firm's stock in a transaction on Monday,
Onboarding tools grow in importance for retention, performance TechTarget Analysis of data from payroll provider ADP from companies with approximately 24 million employees on their combined payrolls showed about 25% of ...
Amid Complexity, SMBs Benefit From Outsourcing PYMNTS.com The smallest companies, we find, are doing payroll manually with Excel spreadsheets or, in some cases, even a pad of paper. Those people who are ...
Heartland Payment Systems Upgraded at Zacks (HPY) The Market Business Several other equities analysts have also commented on the company. ... The Company has the following reportable segments: Heartland Payroll
Small Business Owners Go It Alone Accounting Today (blog) The survey, by payroll service provider Paychex, found that more than one-third of those relying on a service provider to administer such functions say ...
Human Resource Executive(R) Reveals the Top HR Products of 2015 SYS-CON Media (press release) ADP Marketplace is a cloud-based app store designed to serve as a one-stop shop for ADP clients looking to test out and purchase new enterprise ...
ADP counting on 401(k) specialist advisors BenefitsPro The payroll behemoth—ADP processes the paychecks for one in six Americans—is also a plan record keeper to about $59.5 billion in retirement
ADP(R) DataCloud Platform Adds Benchmarking Capability to Help Employers Evaluate Key ... MarketWatch Introduced in May of this year, the ADP(R) DataCloud platform allows business leaders and human resource (HR) professionals from every part of an
ADP's Innovation Lab Drives New Ideas And Cultural Change Within The Company Forbes Automatic Data Processing (ADP) has long had a history of being a conservative company, and that conservatism has served it well since its founding
Why Laurie Zaucha Unloaded 3858 Shares of Paychex, Inc. (NASDAQ:PAYX)? OctaFinance.com A calculated and judicious move was made by the Vice President of Paychex, Inc. (NASDAQ:PAYX) 50.06 +0.10 0.20% , Mr. Laurie Zaucha, 2 days
Paychex holds exec compensation steady Rochester Democrat and Chronicle Bursts of laughter at times filled the auditorium during Paychex's annual shareholders meeting on Wednesday. For Harry Caruso, attending his first
Paychex Small Business Snapshot: Business Owners See Peace of Mind as the Biggest Value to ... MarketWatch According to the Paychex Small Business Survey, of the more than 300 business owners surveyed, 56% of small business owners are administering ...
Paychex looks ahead to more growth opportunities Rochester Business Journal Martin Mucci, the company's president and CEO, noted that Paychex has seen a dramatic increase in net revenue in recent years. Between 2009 and
Paycom Up to Strong Buy: Should It Be in Your Portfolio? Nasdaq Also, Paycom Software's shares are up 53.8% year-to-date and posted a strong return of 28.7% over the past six months. These make the company an ...
Company Shares of Paycom Software, Inc. (NYSE:PAYC) Rally 8.85% News Watch International Shares of Paycom Software, Inc. (NYSE:PAYC) rose by 8.85% in the past week and 5% for the last 4 weeks. In the past week, the shares have
Will The Third Time Be The Charm For Paycom Software To Gain Big? Investor's Business Daily Paycom's price action has been wide and loose, which is a negative. Calm, constructive price action is what investors should look for in a base
Paycom Software, Inc. Announces Third Quarter Fiscal 2015 Earnings Release Date and ... MarketWatch Alternatively, the conference call will be webcast at www.paycom.com on the "Investor Relations" Web page. For those unable to participate, a replay
Insider Selling: Paylocity Holding Corp Director Sells $9901038.00 in Stock (PCTY) Mideast Time Paylocity Holding Corp logo Paylocity Holding Corp (NASDAQ:PCTY) Director Steven I. Sarowitz sold 332,808 shares of the stock in a transaction
Adams Street Partners Llc Sells 228192 Shares of Paylocity Holding Corp Stock (PCTY) Financial Wisdom Works Paylocity Holding Corp logo Paylocity Holding Corp (NASDAQ:PCTY) major shareholder Adams Street Partners Llc sold 228,192 shares of the stock
Scott Saunders will appear in the new series of The Apprentice 2015 [Picture: BBC/Boundless/Jim ... Comet 24 Scott Saunders, 27, who lives in Stevenage old town and runs a booming online comparison called Payroll-Supermarket website company told the ...