Thursday, January 20 2022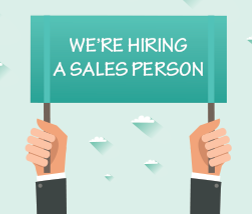 6 Tips For Hiring A Sales Hunter
For Your Payroll/HCM Biz
By Glenn Fallavollita, President - Drip Marketing, Inc. & SellMorePayroll.com
Word Count:

493

Time To Read:

2 Minutes
My research has shown 50% to 60% of all newly hired payroll salespeople (at a small independent's payroll service) will quit or be discharged in their first 9- to 12-months of employment. Nationally, salespeople turnover is 27% each year, according to Harvard Business Review.
Since the process of recruiting and training a new salesperson is a significant expense, you will want to be sure that you hire a sales hunter. That said, here are six tips to consider reading:
6 Tips To Help Hire A Sales Hunter.
Tip #1: Be Specific – The first step is to define the role and requirements in a job posting; therefore, take a moment to reflect on your company's needs before you begin your search. Don't forget to work on a sales comp plan that rewards the right performance.
Tip #2: Manage The Interview – Interview preparation allows you to be ready to ask revealing questions. I recommend using a candidate's resume to build open-ended questions you can use during the interview.
Tip #3: Have The Salesperson Give You A Presentation On What They Are Currently Selling – Step outside of the typical interview questions, such as what are your strengths and weaknesses, and instead conduct a pragmatic interview by asking them to give you a presentation on their current/last employer's product line. Please pay particular attention to the candidate's sales pitch and their ability to answer your questions and concerns about the product.
Tip #4: Play Your Hand Close – A common mistake made by some less experienced interviewers is they reveal what they want from an employee at the beginning of an interview. A clever candidate will use this to his/her advantage and respond with what you want to hear. Maintain the power dynamic by asking instead of telling.
Tip #5: Perform A Candidate Assessment – Throughout the entire interview process, you will want to assess the candidate through a specific lens. Decide what components make up the ideal salesperson and determine if this candidate matches those criteria. If they do not seem like a good fit now, they probably will not be a good fit down the road.
Tip #6: Do Your Research – It is not uncommon for salespeople to exaggerate their accomplishments during the interview. While flat-out lying is entirely unacceptable, exaggerating achievements can be problematic. So, it is in your best interest to jot down their claims and check their accuracy during your reference checks.
What Most People Lie About On Their Resumes.
According to employers, the most common lies they catch on resumes* relate to:
Embellished skill set – 57%

Embellished responsibilities – 55%

Dates of employment – 42%

Job title – 34%

Academic degree – 33%

Companies worked for – 26%

Accolades/awards – 18%
By the way, turnover in your sales department can and will cost your payroll HCM business a small fortune; therefore, work on hiring the right salesperson from the start (hire slowly and fire fast).
*Based on a survey by CareerBuilder.com. of 2,188 U.S.-based hiring managers and HR professionals.
---
About The Author:
Glenn Fallavollita is a nationally recognized keynote speaker providing money-making advice to help payroll service owners, sales pros, and marketing gurus build more profitable relationships with their database of prospects, referral partners, and clients.
Additionally, Glenn is the president of SellMorePayroll.com and Drip Marketing, Inc. and has written 50+ whitepapers and three sales/self-marketing books, Supercharge Your Payroll Sales NOW!, Stop Whining AND Start Selling, and Drip Marketing: A Powerful New Marketing Strategy That Gets Prospects To Buy From You. He also writes blogs for LinkedIn and other national websites.
To hire Glenn for your next conference, visit DripMarketingSpeaker.com.
© Drip Marketing, Inc. All Rights Reserved May Not Be Used Without Written Permission.