Wednesday, February 23 2022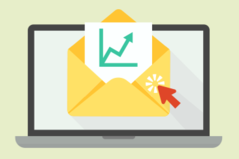 9 Factors That Will Affect Your Payroll Service's e-Mail Open Rates
(Print And Share With Your Marketing Team And Sales Leader)
By Glenn Fallavollita, President of SellMorePayroll.com & Drip Marketing, Inc.
Word Count:

206

Read Time:

48 Seconds
After sending more than 100 million e-mail marketing campaigns here are some of the factors that can have a dramatic impact on an e-mail campaign's open rate.
Apple's e-mail privacy policy.

Time of the day.

Day of the week.

Subject line used.

The name used in the "from" field.

Database receiving the campaign:

New prospect list?

Existing client/past client list?

An existing list?

The frequency of past campaigns.

The "age" of the database and when was the last time an e-mail campaign was sent to it.

Past reader's engagement level; was the campaign sent to the people who opened (or did not open) a previous campaign(s).
IMPORTANT NOTE: If you are sending a mass e-mail marketing campaign to a B2B "non-client" database, avoid Mondays altogether as it is notoriously a bad day for mass e-mail marketing campaigns.
Best days and times To Send An e-Mail Campaign:
Tuesdays – Thursdays from 8:15 a.m. to 9:30 a.m., 11:30 a.m. - 11:45 a.m., 12:55 p.m., or @ 2:45 p.m.

Fridays from 8:15 a.m. to 9:30 a.m.
By the way, ~50% of the people who open an e-mail marketing campaign, will open it in the first 90-minutes.
---
About The Author:
Glenn Fallavollita is a nationally recognized keynote speaker providing money-making advice to help payroll service owners, sales pros, and marketing gurus build more profitable relationships with their database of prospects, referral partners, and clients.
Additionally, Glenn is the president of SellMorePayroll.com and Drip Marketing, Inc. and has written 50+ whitepapers and three sales/self-marketing books, Supercharge Your Payroll Sales NOW!, Stop Whining AND Start Selling, and Drip Marketing: A Powerful New Marketing Strategy That Gets Prospects To Buy From You. He also writes blogs for LinkedIn and other national websites.
© Drip Marketing, Inc. All Rights Reserved May Not Be Used Without Written Permission.