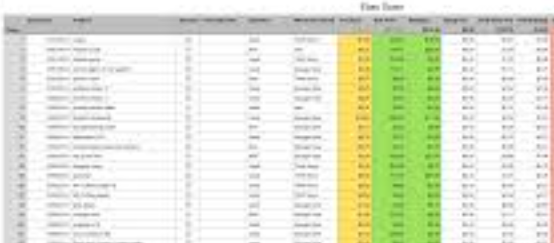 Payroll Sales Leaders: Why You
Need A Payroll Proposal Tracking Report In Excel
By Glenn Fallavollita, President - SellMorePayroll.com & Drip Marketing, Inc.
Word Count: 139
Read Time: 33 Seconds
If you are the sales leader for your payroll service, you need to track the status of every proposal on a daily/weekly basis. And if you are boohooing the idea of tracking your proposals in Excel, I challenge you to call me and tell me why!
Column Titles To Use:
Lead Type (i.e., self-generated lead, in-house lead, referral partner referral, or client referral).

Company Name

Contact Name/Title

Executive Follow-Up Call (this is a call made by the owner/sales leader thanking the prospect for the opportunity to earn their business).

Date Of Proposal

Sunset Date Of Proposal (if a lead hits this date, it automatically gets moved to the loss column).

Current Payroll Service

Discount Given

Product(s) Presented

High Probability Close

Low Probability Close

High Probability Win

Low Probability Win

High Probability Lost

Low Probability Lost
Other Items To Track:
Overall Proposal Close Rate

In-House Sales Lead Proposal Close Rate

Self-Generated Lead Proposal Close Rate

Referral Partner Lead Proposal Close Rate
Remember, you can't manage what you don't measure! Therefore, if you are not measuring the success of your sales team's proposal success rate, you are not managing them correctly.
---
About The Author:
Glenn Fallavollita is a nationally recognized keynote speaker providing money-making advice to help payroll service owners, sales pros, and marketing gurus build more profitable relationships with their database of prospects, referral partners, and clients.
Additionally, Glenn is the president of SellMorePayroll.com and Drip Marketing, Inc. and has written 50+ whitepapers and three sales/self-marketing books, Supercharge Your Payroll Sales NOW!, Stop Whining AND Start Selling, and Drip Marketing: A Powerful New Marketing Strategy That Gets Prospects To Buy From You. He also writes blogs for LinkedIn and other national websites.
© Drip Marketing, Inc. All Rights Reserved May Not Be Used Without Written Permission.