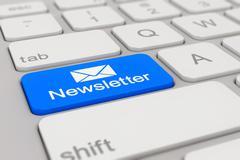 How To Write Great Content For
Your Payroll eMail Newsletter
By Glenn Fallavollita, President of SellMorePayroll.com
Word Count:

496

Read Time:

2.0 Minutes
As the payroll industry continues to grow and evolve, it is essential for clients, prospects, and referral partners to stay informed about the latest developments, HCM trends, government / IRS regulations, and new technology. And because of this, sending them a newsletter can be an excellent tool for keeping them up-to-date with important news and best practices.

However, creating engaging content is not always easy. In this article, I will provide you with some tips, ideas, and guidelines for writing compelling and informative content for your payroll service newsletter.
Identify Your Audience - The first step in creating great content for your payroll service newsletter is to identify your audience. Who are you writing for? Are you targeting business owners, CFOs, and HR pros with less than 20 or more than 250 employees? Understanding your audience will help you create content that is timely, relevant, useful, and engaging.

Keep Your Content Concise - Payroll is a complex and technical field, but your content should be easy to read and understand. Avoid using jargon and technical terms that may confuse your readers. Keep your sentences short and to the point, and use bullet points and subheadings to break up long paragraphs.

Be A Fountain Of Knowledge - Informative content is king. Share insights, best practices, and tips that can help your readers improve their payroll processes or stay informed about the latest industry trends. Make sure your content is up-to-date and accurate.

Use Real-Life Examples - One of the best ways to make your content more engaging is to use real-life examples. Share stories about how other businesses have tackled payroll challenges or improved their processes. Use case studies and testimonials to show how your readers can benefit from your advice.

Include Visual Testimonials/Stories - Visuals can make your content more engaging and help your readers understand complex topics. Use videos for charts, graphs, and infographics to help illustrate your point. Use images and videos to break up text-heavy content and make it more visually appealing.

Engage With Your Audience - Encourage your audience to share their feedback and insights. Ask for comments and questions, and respond to them in a timely manner. Use social media to engage with your readers and share your content. Use polls and surveys to gather feedback and insights from your audience.

Develop A Drip Marketing Plan - Consistency is key when it comes to creating great content for your payroll service newsletter. Set a schedule for publishing your content and stick to it. Make sure your content is consistently high-quality and relevant to your audience.
In summary, creating great content for your payroll service newsletter requires a clear understanding of your audience, concise writing, informative content, real-life examples, visuals, engagement, and consistency. By following our guidelines, you can create a newsletter that is both informative and engaging, and that helps your readers to stay up-to-date with the latest government regs, compliant with HR-related laws, etc.
---
About The Author:
Glenn Fallavollita is a highly acclaimed keynote speaker renowned for delivering invaluable sales and marketing advice to business owners and sales leaders, enabling them to win more payroll sales and produce more referrals from their database of clients and referral partners.
Additionally, Glenn is the president of SellMorePayroll.com and Drip Marketing, Inc. and has written 50+ whitepapers and three sales/self-marketing books, Supercharge Your Payroll Sales NOW!, Stop Whining AND Start Selling, and Drip Marketing: A Powerful New Marketing Strategy That Gets Prospects To Buy From You. He also writes blogs for LinkedIn and other national websites.
© Drip Marketing, Inc. All Rights Reserved May Not Be Used Without Written Permission.