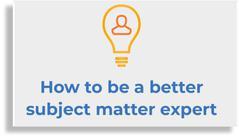 6 Steps To Help You Become A
Payroll Industry Subject Matter Expert
By Glenn Fallavollita, President of SellMorePayroll.com
Word Count: 483
Time To Read: 1.9 Minutes
In today's competitive business landscape, establishing your payroll service as a subject matter expert (SME) can provide significant advantages. More importantly, being a SME plays a key role in attracting new payroll clients AND referrals from your database of referral partners, i.e., CPAs. And by sharing your expertise and insights, you will gain visibility and credibility as an industry leader.
6 Steps To Help Position You/Your Business As A SME.
#1: Develop Deep Industry Knowledge
To position your business as an SME, it is crucial to have comprehensive knowledge of the payroll service, timekeeping, and HR industry. Stay updated on industry trends, regulatory changes, best practices, and emerging technologies. I also recommend attending/speaking at industry conferences, seminars, and webinars. Also, don't forget to write blogs for your website and partners.
#2: Specialize and Identify Your Niche
Identify a specific niche within the payroll service industry where you can focus your expertise. This could be a particular sector, such as healthcare or retail, or a specific aspect of payroll, like compliance or payroll software solutions. Specializing allows you to differentiate your business from competitors and showcase your in-depth payroll, timekeeping, etc., knowledge.
#3: Create Valuable Content
Sharing high-quality, informative content is a powerful way to establish yourself as an SME; therefore, it is important to create blog posts, articles, whitepapers, case studies, e-books, and video tutorials related to the payroll, timekeeping, HR, and related industries your target audience should read. You can distribute your content through your website, social media platforms, industry publications, and relevant online communities to reach a wider audience.
#4: Engage in Thought Leadership
Actively participate in industry seminars, webinars, conferences, etc. Don't forget to seek opportunities to be a guest speaker or panelist at conferences, webinars, or podcasts. Offer to write guest blog posts or be interviewed by influencers in the payroll service industry.
#5: Leverage Customer Success Stories
Obtain testimonials from satisfied clients and showcase them on your website and marketing materials. Actively engage with your clients, listen to their feedback, and continuously improve your services based on their needs. Positive customer experiences and testimonials can significantly enhance your reputation and attract new clients.
#6: Network And Join Industry Events
Building a strong professional network is vital for positioning yourself as an SME. Attend industry events, join relevant associations and organizations, and actively participate in networking opportunities. Don't forget to consider joint partnerships to expand your reach within the industry.
Summary:
Becoming a subject matter expert in the payroll service industry requires dedication, continuous learning, and a strategic approach. And by deepening your industry knowledge, specializing in a niche, creating valuable content, leveraging customer success stories, networking, and investing in professional development, you can position your business as a trusted authority in the payroll service industry. Establishing your SME status will enhance your brand reputation, attract clients, and open doors to new growth opportunities.
About The Author:
Glenn Fallavollita is a highly acclaimed keynote speaker renowned for delivering invaluable sales and marketing advice to business owners and sales leaders, enabling them to win more payroll sales and produce more referrals from their database of clients and referral partners.
Additionally, Glenn is the president of SellMorePayroll.com and Drip Marketing, Inc. and has written 50+ whitepapers and three sales/self-marketing books, Supercharge Your Payroll Sales NOW!, Stop Whining AND Start Selling, and Drip Marketing: A Powerful New Marketing Strategy That Gets Prospects To Buy From You. He also writes blogs for LinkedIn and other national websites.
© Drip Marketing, Inc. All Rights Reserved May Not Be Used Without Written Permission.