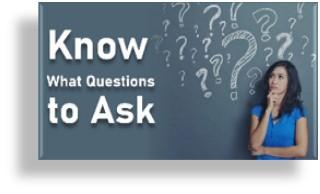 3 Of The Most Powerful Words In Payroll Sales
(Why, What, And How)
By Glenn Fallavollita, President of SellMorePayroll.com
Word Count: 249
Read Time: 60 Seconds
Do you want to know the keywords or phrases to use during your sales call discovery process? Well, here they are:

#1= Why - When used at the beginning of a sentence, it requires someone to answer your question(s)...
Why did you decide to hire…?
Why are you using this service?
Why are you doing it this way?
#2 = What - When used at the beginning of a sentence, you can get someone to rationalize a decision...
What was the reason for using this time clock?
What are you responsible for when it comes to…?
What's stopping you from changing payroll services or HCM companies?
#3 = How - When used at the beginning of a sentence, you can get someone to explain a process or cost-related data...
How much is this costing you?
How did their payroll conversion process go for you?
How do you track labor costs?
7 Question-Asking Sections:
The questions above can be separated into sections, which I refer to in my book, Stop Whining And Start Selling, as listed below:
Current Situation Questions
Current Problem-Related Questions
Financial Questions
Pain Solving Questions
Closing Questions
Overcoming Objection Questions
Next Step Questions
Important Note: Always add value to the sales discovery process by providing some recommendations or simple ways to improve/save money. If you leave a payroll or HCM prospect with a positive impression, they are more likely to call you when they become ready to make a buying decision.
---
About The Author:
Glenn Fallavollita is a nationally recognized keynote speaker providing money-making advice to help payroll service owners, sales pros, and marketing gurus build more profitable relationships with their database of prospects, referral partners, and clients.
Additionally, Glenn is the president of SellMorePayroll.com and Drip Marketing, Inc. and has written 50+ whitepapers and three sales/self-marketing books, Supercharge Your Payroll Sales NOW!, Stop Whining AND Start Selling, and Drip Marketing: A Powerful New Marketing Strategy That Gets Prospects To Buy From You. He also writes blogs for LinkedIn and other national websites.
© Drip Marketing, Inc. All Rights Reserved May Not Be Used Without Written Permission.