Latest Posts
Subscribe to this blog's feed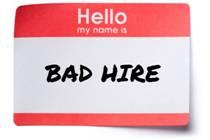 Hiring A Payroll Salesperson?
8 Tips To Help You Avoid A Bad Hire.
By Glenn Fallavollita - CEO of SellMorePayroll.com and Drip Marketing, Inc. | Author | Keynote Speaker
Word count for this issue: 747
Approximate time to read: About 3.0 minutes @ 250 words per minute
When you consider 50% to 66% of all payroll salespeople quit or are fired in their first 3- to 9-months of employment, an independent payroll service needs to ensure they are hiring the right person. But more importantly, have a formal onboarding process.
This is especially important when you consider the following costs for a new hire:
A recruiting company's fee.
Salaries paid.
Commissions paid.
Employer taxes.
Car/cell phone expenses.
Health insurance/benefits package.
The cost of labor for training.
The cost of lost sales opportunities; remember, you are not just losing year one's revenue if the salesperson can't close a deal, you are losing 7+ years of recurring revenue.
This One Payroll Service Lost $200,000 With 5 Bad Hires.

I recently spoke with an owner of a payroll service that hired and fired one sales leader and four salespeople in an 18-month period - all who lasted, on average, 6.4 months. By the way, this cost him about $200,000.

What's worse, these five hires generated less than $10,000 in new sales for the $200,000 spent. If you look at the gross profits for a typical independent payroll service, this payroll service would need to generate $364,000 dollars in gross sales based on a pre-tax gross profit (before executive pay and bonuses) of 55% to offset the $200,000 spent.
Click here to read How To Hire A Sales Person by SmartRecruiters.com.
8 Tips To Help Avoid A Poor Hiring Decision.
Tip #1: Don't Rush Things - While you may want a salesperson on your staff, keep in mind the cost of hiring the wrong person; therefore, take a careful look at your interviewing, reference checking and onboarding process.
Tip #2: Pay A Bounty - Go to your staff, database of contacts and vendors and say, "I will pay you $5,000 in cash if you can help me recruit a successful salesperson to my company." What you need to do next is hand this person a one-page overview of what you are looking for and how the $5,000 in cash is paid. By the way, you will only pay the $5,000 if the salesperson produces $X in revenue in their first 12-months of employment.

Click here to contact me to learn how I can help you construct this one page document.
Tip #3: Check References - References are the best chance you have at gauging whether someone can perform a sales job at your company. By the way, don't think for one minute that this salesperson will have the same success at your company as they did at their previous employer; especially if they are coming from another payroll service.
Tip #4: Ask Past Employers This Question - "If you had the chance, would you hire <first name> again?" Their response, or lack of a response, will be eye opening to you.
Tip #5: Look Deep Into Your Rolodex, LinkedIn Contacts And Vendors - When you have an open sales position, reach out to your contacts to see if they know of anyone (or maybe themselves) who might be interested in a sales position at your company.
Tip #6: Test Them On The Computer - The days of not being computer savvy are pretty much over for a salesperson. Because of this, test every candidate on their ability to use a CRM program and Outlook BEFORE you hire them.
Tip #7: Don't Hire Salespeople Who Will Work From Home - If you can avoid it, hire a salesperson that is within a reasonable driving distance from your office. I have seen more salespeople fail who work from home - especially when a payroll service doesn't have a formal onboarding process and a dedicated sales manager.
Tip #8: Develop A Formal Onboarding Process - BEFORE you even consider hiring your next salesperson, heed this sage advice: Make sure you have a formal onboarding process (sales training manual, sales tracking reports, databases, sales scripts, etc.) before you hire another salesperson.
Executive Summary: When you want to hire a salesperson, here are some additional suggestions:
Start noticing good salespeople as you will want to approach them with the bounty ad listed above. Why? Because you will pay them the $5,000 bonus if they are successful.
Check references.
Run every great candidate through an in-depth interview process and don't forget to use an independent third-party to interview them as well.
Bottom line: Hiring, as with any other aspect of business, isn't something you want to do without a lot of thought and preparation. Period.
---
About The Author

Glenn Fallavollita is the President of SellMorePayroll.com, and is a division of Drip Marketing, Inc. Glenn founded Drip Marketing, Inc. in 2002 and serves as CEO, lead copywriter and strategist. He is also instrumental in developing the curriculum, format and expansion of Drip University - the training arm of Drip Marketing, Inc. and SellMorePayroll.com. His work, insight and creative talent has been the catalyst for the delivery of more than 40 million marketing campaigns on behalf of his clients.

To learn how we can help your payroll service increase its sales, visit us on the web at www.SellMorePayroll.com or call us directly at (856) 401-9577.
© Drip Marketing, Inc. All right reserved. No portion of this publication can be reprinted or used without the express written permission of Drip Marketing, Inc.
How To Request A Free Demo
Are you an owner of a payroll service who would like more information/costs about our innovative COVID-19 Marketing Package? If you are, send us your information today!